*CANCELLED

Live: Rummelsnuff (De) + Miss Fish & Transparent Tim (Dk)
Darkest Entries Dj's afterparty

Presale : 90 dkk
Entré : 100 dkk
Door: 20.00
Start: 21.00

⨳⨳⨳⨳⨳⨳⨳⨳⨳⨳⨳⨳⨳⨳⨳⨳⨳⨳⨳⨳⨳⨳⨳⨳⨳⨳⨳⨳⨳⨳⨳⨳⨳⨳⨳⨳
Rummelsnuff(DE)
Roger Baptist fra Tyskland er bodybuilder, udsmider og tidligere medlem af bands som Freunde der Italienischen Oper og EBM/Industrial-bandet Automatic Noir.

Rummelsnuff er en fiktiv karakter skabt af Robert Baptist, og i 2008 udgav han sit første album Halt Durch!. Gennem Rummelsnuff-karakteren krydses mange forskellige kunstformer både visuelt på scenen og genremæssigt. Stilen er elektropunk-gassenhauer og sangene varierer fra mørke ballader til slagsange om sport og arbejderklasse.

English

Roger Baptist from Germany is a bodybuilder, pitcher and former member of bands such as Freunde der Italienischen Oper and EBM / Industrial band Automatic Noir.

Rummelsnuff is a fictional character created by Robert Baptist, and in 2008 he released his first album Halt Durch !. Through the Rummelsnuff character, many different art forms are intersected both visually on stage and genre. The style is electro-punk gas hats and the songs range from dark ballads to punch songs about sports and working class.

https://www.youtube.com/watch?v=wLX4NYrW1bI

https://www.youtube.com/watch?v=5patve0yHDs

⨳⨳⨳⨳⨳⨳⨳⨳⨳⨳⨳⨳⨳⨳⨳⨳⨳⨳⨳⨳⨳⨳⨳⨳⨳⨳⨳⨳⨳⨳⨳⨳⨳⨳⨳⨳

Miss Fish & Transparent Tim

Miss fish er en performancekunstner inspireret af punk rock, elektronisk musik og "The beauty of the ocean and the infinity of the mind" Miss Fish udfolder et fisket mørkt og glamourøst sceneshow, og har derudover været aktiv på queer scenen i mange år.

English

Miss fish is a performance artist inspired by punk rock, electronic music and "The beauty of the ocean and the infinity of the mind" Miss Fish unfolds a fishing dark and glamorous stage show, and has been active on the queer stage for many years.

https://www.youtube.com/watch?v=IUCt_Vc6qgM

Afterparty
Darkest Entries DJ'S

https://www.facebook.com/Darkestentries/




Miss Fish & Transparent Tim (Mini concert)
QUeerGala im AGH
"Queergala" opening of 30th Anniversary Of Squatting KØPi
doors 7pm (!)
Date & Time: Thursday, 27 February, 2020 – 20:00
Category: bar/cafe/music/concert

KØPI
Köpenicker Straße 137
10179 Berlin
Germany
https://koepi137.net/gix.html
———————————————————————————————————-

SWEAT x VED SIDEN AF: Hybrid Queer Night
Dear creatures of the night, we are inviting you to come dance with us and to let your inner darkness and dreams shine. For this special event, we will curate two different floors to offer your two different kinds of atmospheres.

In the main floor, we have invited Akua from Discwoman New York to celebrate acid rave culture together with SWEAT residents.
The upstairs floor will be dedicated to goth industrial culture, with DJ's Mouth Wound and MORT-MOI serving us with the best of synth/goth/dark wave, ebm and industrial sounds. More info soon!

SWEAT is a DJ collective and club night for and by queer and trans* people. Their aim is to create a platform within the community for talented DJ's and producers in the electronic music field, as well as a safer party space.

SWEAT started by organizing queer electronic nights in Warehouse9, Copenhagen in 2015. The journey then continued over the bridge to Malmö, where most of their queer raves held place. Now the time has come to join forces with Ved Siden Af!
______________

LINE UP:

▼Akua (US) – Discwoman
https://soundcloud.com/akua_b
▼James Lotion (DK) – SWEAT / Den anden side
https://soundcloud.com/james-lotion
▼ Sparkly Pony(SE) – SWEAT
https://soundcloud.com/sparklypony
▼ Dgeral (SE) – SWEAT/Miniteka/Slut Rave
https://soundcloud.com/dgeral


MEDEA'S GOTH CHAMBER (Upstairs)
▼Mouth Wound (DK) – Totentanz
https://mouthwound.bandcamp.com/
▼MORT-MOI (SE/FR) – SWEAT
https://soundcloud.com/mort-moi
▼Miss Fish (DK)
http://missfish.net/
▼ With a visual installation by Fontän

Dresscode suggestions for the night:
Hybrid, chains, fluorescent details, dark clothing, kinky, goth
______________

This party is dedicated to queer and trans people of all gender and colours. We want people from these communities to feel seen and respected, so hold yourself and each other accountable.

CLUB MAFIA will be present at this party, and we encourage everyone attending to take part in the collective responsibility of keeping the energy high and the bullshit non-existent. Therefore:

The dancefloor is for dancing
We never touch without consent
We always respect a no
We party responsibly or go home
We look out for each other
We spread love and good energy

But remember that even though we work our hardest to create a compassionate atmosphere, we can never guarantee anyone that they won't experience anything uncomfortable. Should this happen, don't hesitate to contact the mafias wearing pink patches or any of the staff, and know that you will be taken seriously.

ACCESSIBILITY
Unfortunately, the venue is not wheelchair accessible.

MORE INFO:
https://www.facebook.com/events/526967254565699/
Dør: 20.00
Koncert: 21.00
Billetpris: 40 kr i døren
▄▄▄▄▄▄▄▄▄▄▄▄▄▄▄▄▄▄▄▄▄▄▄▄▄▄▄▄▄▄▄▄▄▄▄▄▄▄
LINE-UP:
21:00 – State Of Mind
22:00 – Navy Bruise
23:00 – Ras Bolding
24:00 – Miss Fish & Transparent Tim
Efter flere års Tribute-arrangementer bekender vi langt om længe kulør og samles i år om TRIBUTE DECADENCE. Det svulstige og det perverterede, det aparte og det depraverede. Endnu engang vil fire navne fra den danske scene, nemlig State Of Mind, Navy Bruise, Ras Bolding og Miss Fish & Transparent Tim byde på koncerter med egen musik og fortolkninger baseret på dette års tema: dekadence. Forvent fortolkninger af numre med DEPECHE MODE, PET SHOP BOYS, JEAN MICHEL JARRE, TALKING HEADS, B52S, JOAN JETT, SHRIEKBACK og PLACEBO. Nok engang er entréprisen dekadent lav: bare 40 kr.
Ydermere vil DJs Sue She og Geza sørge for helt rette stemning før, mellem og efter koncerterne med musik af navne som f. eks. DAVID BOWIE, DEPECHE MODE, THE CURE, KRAFTWERK, SOFT CELL, EURYTHMICS, GARY NUMAN, KATE BUSH, NINE INCH NAILS, NEW ORDER, CRYSTAL CASTLES, THE KNIFE, BRIAN ENO, JEAN MICHEL JARRE, MARTIN HALL, EINSTÜRZENDE NEUBAUTEN, FRONT 242, WELLE: ERDBALL, COVENANT, FEVER RAY, FROZEN AUTUMN, HUMAN LEAGUE, SHE PAST AWAY, etc.
Aftenen arrangeres af omtrent samme hold, som også stod bag de velbesøgte arrangementer, Tribute Speak & Spell, Tribute 1982, Tribute Cold War, Tribute Back To The Future, Tribute Halloween, Tribute Bowie, Tribute Danish Wave og Tribute New Wave i henholdsvis 2011, 2012, 2013, 2014, 2015, 2016, 2017 og 2018.
Om de optrædende
Ras Bolding har med udgangspunkt i Odense huseret i genrer som synth, wave, goth i mange år, til tider tilsat elementer af også 8-bit, punk og sågar en smule inspiration fra klassisk musik. Til Tribute Decadence medbringer han Marie Makaber på ekstra vokal og synth samt Sofia Sadist på bas. Der kan også forventes dekadente mængder laser, neon, røg og damp plus kunstfærdige frisurer.
Navy Bruise er en duo bestående af Hansen på elektronik og Wanda Bra på vokal. De har været i gang siden 2013 med både ep- og album-udgivelser samt koncerter ved forskellige lejligheder. Musikalsk bevæger Navy Bruise sig i den dekadente ende af synthpop-genren, tilsat elementer af electronica, med smag for det både dunkle, det indsmigrende og det let teatralske.
Miss Fish & Transparent Tim fremstår i dag som en duo, men projektet har efterhånden en del år på bagen indenfor genrer som new wave, postpunk og synth, ofte med afsæt i dekadent lyd og queerkultur og den københavnske Warehouse-scene samt bl.a. forbindelser til Berlin. Det er også med tiden blevet til forskellige samarbejder, bl.a. med Martin Hall og forbindelser til Nelson Can med mere.
State Of Mind optræder også som duo og har også tidligere været på plakaten i forb. m. Tribute-arrangementer. Musikken tager afsæt i electropop, men også med inspiration fra bl.a. den mere kunstorienterede ende af rocken såvel som den mere støjende. Kim Bonfils, hjernen bag projektet, har desuden fortid i Det Neodepressionistiske Danseorkester.

——————————————————————————————————————



Freitag, 01. November ab 22Uhr
Live: MISS FISH & TRANSPARENT TIM (DK)
DJs & Aftershow: VELA | SPARKLY PONY (SE)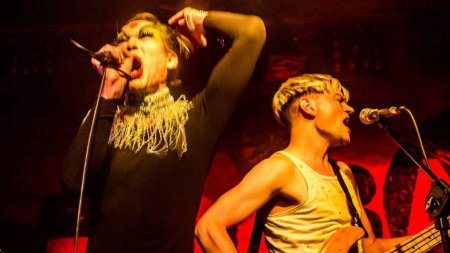 Foto: Ingo Lamb
Für die einen ist's die graue, ungemütliche Jahreszeit; für uns exklusiver Besuch aus Dänemark und Schweden: Winter Is Coming und bringt den energischen Live-Act MISS FISH & TRANSPARENT TIM sowie die pulsierenden DJ-Sets von VELA und SPARKLY PONY ins Eschschloraque; Winter Is Coming und öffnet die Pforten zum Queer Underground, in dem Post Punk Electro tobt!
MISS FISH & TRANSPARENT TIM lassen die Atmosphäre bei Minimalistic Post Punk erzittern, der mit einer extravaganten, voll und ganz charismatischen Performance daherkommt. Das Duo aus dem dänischen Queer Underground um Miss Fish – Performance Artist, Singer & Songwriter – und den DJ, Komponisten und Bassisten Transparent Tim präsentiert sowohl seine Herzstücke als auch brandneues Material – es klirrt vor durchdringenden Klängen!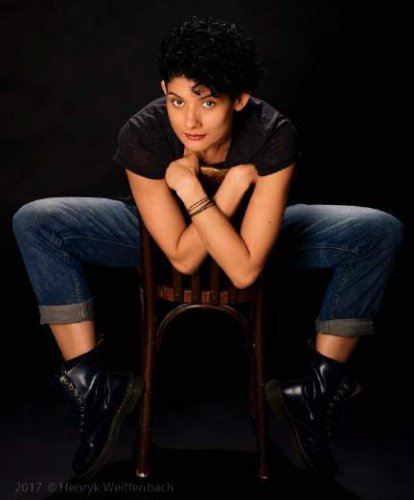 Foto: Henryk Weiffenbach
Schon der Live-Act fackelt nicht lange, um ein explosives Soundspektrum zu entzünden und dabei entfachen die DJ-Sets und Aftershow genauso kraftvolle Sounds: So kann man gar nicht anders, als sich von der Power mitreißen zu lassen, die VELA – international erfahrene DJ von weltweiten Festivals bis hin zu legendären Clubs wie Maria und Tresor – mit durchdringenden Bässen, pulsierenden Vibes und bewegenden Breaks durch die Nacht schallen lässt! SPARKLY PONY, DJ und Produzent aus Malmö, strebt danach, die Queer-Szene und Underground Electronic Music miteinander zu vereinen. Sein Mix aus "dark […] techno with groovy, stomping house tunes" erschafft die Verbindung von "deep and melancholic techno that touches you on the dancefloor."
Winter Is Coming und heizt uns mit Post Punk Electro und Dark Techno im Eschschloraque ein, wo der Queer Underground tobt!
Text: Vera Fischer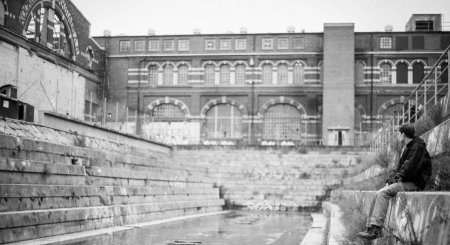 Sparkly Pony by M Dabbadie